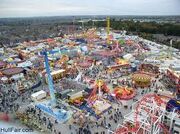 Fun Fair is a custom multiplayer map for Call of Duty: Modern Warfare 2.
Fun Fair takes place in a wide abandoned park. Some of the map layout is based from the Carnival map from Modern Warfare 2. There aren't any buildings to take cover, just to take cover is to hide in some of the rides. The teams in this map are Spetsnaz and Task Force 141
Ad blocker interference detected!
Wikia is a free-to-use site that makes money from advertising. We have a modified experience for viewers using ad blockers

Wikia is not accessible if you've made further modifications. Remove the custom ad blocker rule(s) and the page will load as expected.